Integral Practitioner Convergence: Evolving Integral Practice in a Time of Cascading Crises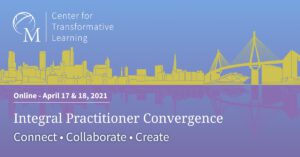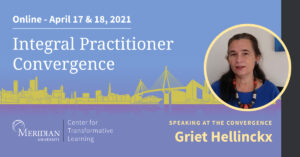 In response to our present-day challenges, transformative initiatives are emerging and converging all around the globe. Our global circumstances require practitioners involved in transformation and leadership to develop a unique ecology of competencies that is complex enough for the requirements of the present.
Many of us are called to lives of sacred purpose where we seek to connect professional livelihood with personal meaning and passion. However, there is a widening gap between the challenges of complexity and our individual and collective capabilities. To realize our potential for passionate and meaningful livelihood, it is imperative that we close this gap by building a bridge of capability.
Integral practitioners from around the world are converging on April 17 – 18, 2021, 17:00 till 24:00 CET to learn from each other about the capabilities, methods, models and practices that they are innovating in the context of their professional engagements.
I'll be a panelist in one of the panels that are the backbone of this online-conference.
For more information: https://mu-website-prod-a.azurewebsites.net/public-programs/workshops-and-events/integral-practitioner-convergence-2021